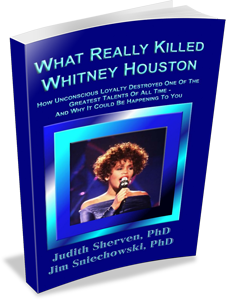 When superstar Whitney Houston died at the age of 48, many people tried to address the question of What Really Killed Whitney Houston.
But their answers were superficial—drugs and Bobby Brown.
The real answer is now finally available to you—due to the in-depth research and profound revelations provided by husband and wife psychology team Judith Sherven, PhD and Jim Sniechowski, PhD.
In their new book—What Really Killed Whitney Houston…
Judith & Jim compassionately expose the depth of Whitney's unconscious loyalties. And they explain, despite Whitney's 170 million record sales and holding the Guinness World Record as the most-awarded female act of all time, how her inner turmoil robbed her from being able to own and live inside her success, and how it ultimately cost her her beauty, her voice, and her life.
And you get to benefit personally! As Art Klein, best-selling Book of the Month Club Author and former V.P. of Marketing for The New York Times Corporation, summed it up:
This is the most important book ever written about the most important subject facing every aware human being: how to fulfill your magnificence and not succumb to lethal unconscious allegiances. This is a book about the deepest personal freedom possible. Nothing matters more."
Order Your Copy Today!

---
Come Back and Submit your Amazon Receipt Here!